22 and Thriving
Cancer Support Community | 12.03.2019
Written by Alexsandra Dietrich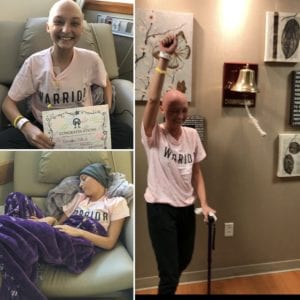 Hello, my name is Alexsandra (Alexsa) Dietrich. I am 22 and I am a Hodgkin's Lymphoma cancer survivor.
On February 17, 2018, I found a large lump in my neck that had been growing over 72 hours. For months I had been diagnosed three times with bronchitis and once with pneumonia. I thought because I was from Florida and was not used to the Ohio weather, that was why I had been feeling off for so long. After seeing the lump progress so quickly, I went to the urgent care clinic that had been diagnosing me with the other illnesses. They sent me to Riverside Hospital's emergency room, where I sat for six hours, waiting on blood tests and scans.
A doctor then came in and sat eye level with me. He told me my scans "lit up like a Christmas tree" and in his professional opinion he would be surprised if I did not have lymphoma. I was then admitted to the hospital, where I stayed for five days, having more tests done and a biopsy to remove the head of the mass sticking out of my neck.
As a student at The Ohio State University in the middle of Spring semester, I decided it would be best for have follow-up treatment there back home in Florida. I had to drop all my classes and move back to Florida and, just like that, in less than a week my whole life was flipped upside down. I became a patient at Moffit Cancer Center in Tampa, Florida, where we then began more tests to determine the stage and treatment plan.
After what felt like an eternity, it was determined I had Stage 2B Hodgkin's Lymphoma. With this diagnosis, I had to complete a mandatory 12 rounds and 6 months of consistent chemotherapy. I received the ABVD treatment plan and went to a 5 to 6-hour chemo drip every other Tuesday. During this time, I lost my hair, could not walk without a cane, could not eat without medicine, and had other major side effects.
I was a strategic communications major before being diagnosed and am happy to say during treatment I changed my course of life and am now in school for social work in hopes of working with the oncology population. I was able to finish all my chemotherapy, have clear scans, and ring the bell to signify completion of my treatment on August 14, 2018, a day that I will never forget. Although I endured something difficult, I never gave up and never stopped fighting and I am grateful to be here today.
I'm back in school now, studying social work and have had the wonderful opportunity to do an internship at Cancer Support Community Central Ohio. In my role there, I have met so many other cancer patients and survivors, plus their family members and friends, who also are affected when someone they care about has a cancer diagnosis. I'm also helping the organization raise awareness of the impact of cancer on people my age and providing a safe space online for young people in their 20s and 30s to connect with each other and share their journey.
Cancer changed my life, but it changed it for the better. I hope to continue to show people the light at the end of the tunnel and change other people's lives too.
Alexsa's survival bell ringing video here. Warning: you will probably cry