A Place of So Many Thank You's
Cancer Support Community | 12.12.2016
One sentence, three words— "You have cancer." Hearing this once is enough for an entire lifetime, but for Cheryl Eddy, that was not the case. Over the last five years, Cheryl has been burdened with hearing that message three times. But throughout these years, she has managed to beat the odds and she continues on her cancer journey every day with a smile on her face.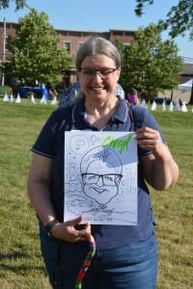 Cheryl was first diagnosed with Stage II breast cancer and went on a three-week downward spiral. Not only had she been given a cancer diagnosis, Cheryl believed she was given her death sentence as well. Due to the past experiences of people she was surrounded by, cancer always seemed to win. It wasn't until she joined a support group that she came to the realization that this cancer diagnosis didn't have to get the best of her; she found hope.
Unfortunately, the support group Cheryl was attending ended after two years, but she heard about Cancer Support Community from another survivor in her group. The rest is history and Cheryl has been attending support groups, Tai Chi, Mindfulness Meditation, and Yoga Mudra ever since.
A few years after the breast cancer diagnosis, Cheryl heard that dreadful sentence once more when she was diagnosed with Stage I A Endometrial cancer. She had a hysterectomy and underwent radiation.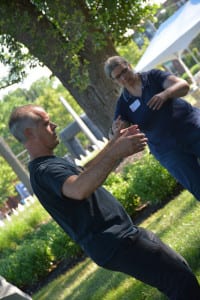 But it turns out that it was not all that bad in comparison to the news she would receive in the months that followed. Cheryl's breast cancer had metastasized to the bone in her left leg and was now Stage IV with a three- to five-year survivorship. Surgery, chemotherapy, and radiation followed – once again. "That really took a toll on me mentally and physically," said Cheryl. "Not realizing how limited I would be physically, I found myself needing help but found it difficult to ask for it."
Today, Cheryl is taking one day at a time, and enjoying the people around her. Throughout her cancer journey, Cheryl credits much of her resilience and positive outlook to Cancer Support Community. "This is a place of so many 'thank yous' and no 'pleases,'" Cheryl said when describing the organization. "I truly believe that I would not be in the place I am today without the community of people I've met by attending the programs at Cancer Support Community," Cheryl offered.
The cards, visits, and kind words of encouragement during her recovery from everyone here at Cancer Support Community have taught Cheryl that it is okay to ask for help, but most importantly, it has allowed her to embrace the feeling of hope she had felt when she was first diagnosed five years ago.