Meet Arlene
Cancer Support Community | 07.30.2022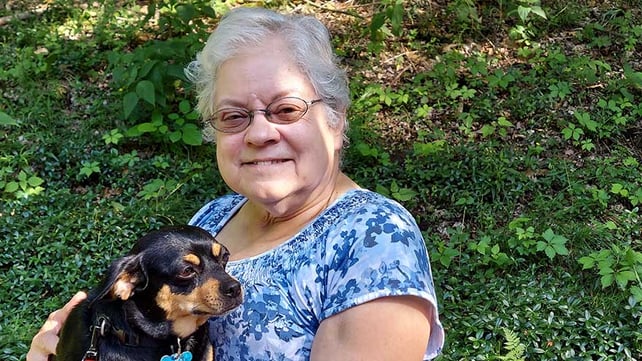 Arlene knows the importance of staying active and engaged. After retiring from Battelle before COVID, she had a full schedule of wellness and volunteer activities as a way to stay connected with others. When COVID shut everything down, those connections ended, too. "I was thankful that Cancer Support Community continued to have programs online," said Arlene of the fact that she could still connect with others during that difficult period. "It was a lifeline." Now that classes are being offered in person again, Arlene joins others at the Cancer Support Community facility for some programs while continuing to participate in other sessions through Zoom.
Arlene was diagnosed with stage zero breast cancer 27 years ago. In 2017, she had a chest x-ray in preparation for hip replacement surgery, and nodules in both of her lungs were found. The one in the right lung increased in size, and a biopsy indicated it was cancer. As a result, the upper right lobe was removed. The nodule on the left side was just atypical cells, according to the biopsy, and she had five radiation treatments for this.
"The biggest obstacle in my cancer journey was not having a lot of information at the beginning of my treatment," explained Arlene. She participated in Cancer Support Community's Open to Options® program (a treatment decision support program that can help identify and prioritize questions and concerns to share with your health care team) and found it to be very useful. "It was helpful to have a plan in writing," she noted. Arlene says she also benefited from Cancer Support Community's library of books and reference materials that are available in person and online.
"I've attended just about every one of the classes. And every time, I learn something that makes my life better," Arlene stated. Of all the classes, Arlene enjoys Gentle Yoga the most. Even though she connects online, she feels a sense of community with the instructor, Abby, and she reports that she always feels better after class. In 2022, Arlene started treatment for lung cancer in her left lung.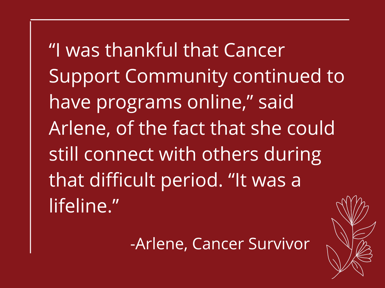 Arlene also enjoys the Cooking for Wellness classes. While she is not one to spend an hour cooking, she appreciates that the dieticians provide information about a plant-based diet with an emphasis on fruits and vegetables.
Arlene finds the monthly Lung Cancer Support Group helpful, and she looks forward to attending regularly.
Arlene's words of wisdom to others who are faced with a cancer diagnosis are to "attend Cancer Support Community classes and support groups and reach out to friends to find connections." Volunteering also has been meaningful to Arlene. "It is good to contribute and to receive."
Most importantly, Arlene said, is getting regular scans and tests. "Get other tests done, and you might find something else," she offered. Arlene's initial breast cancer and lung cancers were both found accidentally during another procedure, so she knows it is important to continue with ongoing testing appointments.
Arlene continues to attend the Lung Cancer Support Group, yoga, the Connect through Music sessions, and other classes. "I'm thankful that Cancer Support Community has made these programs available."