Circle of Hope Monthly Giving
Our Circle of Hope is your opportunity to make a consistent and lasting impact on Central Ohioans who are affected by cancer.
Becoming a Circle of Hope member with an automatic monthly gift allows more of your support to go directly to our work to ensure that no one faces cancer alone.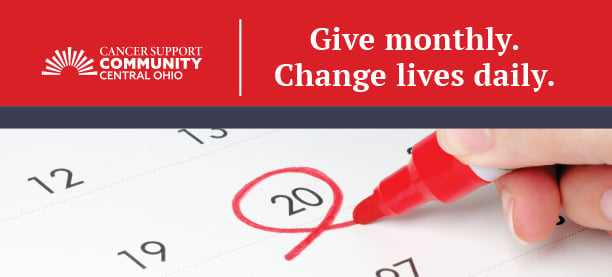 A year of monthly giving at…
$5 provides an Art Therapy session for 2 children or adults. Integrating art therapy into the journey can help ease and enrich the healing process for people with cancer as well as their caregivers, family members, children, and friends.
$10 allows 5 people to attend a Lunchtime Learning educational workshop. Each of these presentations features a subject-matter expert who provides important information and resources on a variety of topics to help during the cancer journey.
$25 allows 1 person to attend 12 Support Group sessions with a licensed social worker. Participants find compassionate support as they share and learn from others who are going through the same experiences.
$50 provides 12 Gentle Yoga classes for 2 people. Gentle exercise, breathing, and meditation help improve alignment and blood flow, reduce stress, and induce relaxation.
$100 provides 12 Cooking for Wellness classes for 4 people. Healthy cooking and eating well are essential for people living with, though, and beyond cancer. Classes feature a professional chef and licensed dietitian who demonstrate how to make easy and nutritious dishes that are packed with antioxidants and flavor.
When completing the donation form, please check 'Make my donation recurring' to join the Circle of Hope to provide direct programs and services, at no cost, to anyone impacted by cancer.
…So that no one faces cancer alone
Explore the complete Cancer Support Community Central Ohio calendar here.