Exercise provides a building block for better health, especially for people with cancer and cancer survivors. More clinicians and oncologists are recommending exercise as a strategy for reducing the side effects of treatment, speeding recovery and improving overall quality of life.
Our certified instructors guide movement and work with participants to ensure that they receive personalized and caring support during sessions. These classes also provide important health benefits to family, friends and caregivers.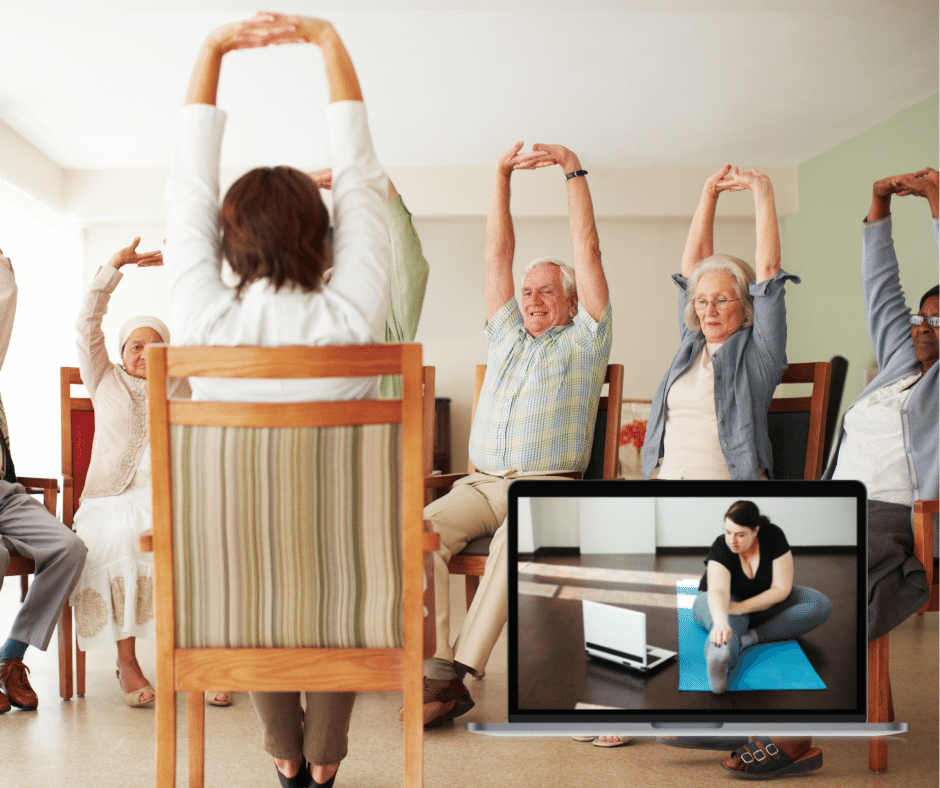 Gentle Yoga
Gentle exercise, breathing, and meditation help improve alignment and blood flow, reduce stress, and induce relaxation. This class can be taken at any fitness level, even if you are going through treatment. Gentle Yoga will help you modify movements for your current physical ability. Meets on Mondays, Wednesdays, and Saturdays via hybrid.
Yoga Nidra
Also called yogic sleep or sleep with awareness, it is a systemic method that supports the complete relaxation of mind and body. One hour of yoga Nidra is said to be the equivalent of four hours of regular sleep. In the stress of daily life, we accumulate physical, emotional, and mental tension that we may not even be aware of. The practice of yoga Nidra helps us to release these tensions, and we experience a deeply relaxed state of restoration and renewal. Meet on First Tuesdays of each month via hybrid.
Chair Yoga
Chair yoga is a practice that modifies yoga poses so they can be done while seated in a chair. These modifications make yoga accessible to people who cannot stand, lack the mobility to move easily from standing to seated to supine positions or want a quick break from working at home. Meet every Friday virtually.
Qigong
Qi means "life energy" and gong means "daily effort"; Qigong focuses life energy for different purposes, including self-healing. Zhineng Qigong consists of an easy-flowing series of movements combined with "intention" to gently open the power of the mind and heart to induce healing, cultivate wisdom and balance our physical and energetic systems to invite joy into our lives. Classes are open to anyone affected by cancer. Meets every Thursdays virtually.
Zumba Gold
Zumba Gold is a joyful, adaptable dance practice that incorporates Latin inspired moves and music. Dance is a fun uplifting way to build and tone muscle, improve cardio, promote flexibility and decrease stress. Meets every Wednesdays virtually.
Workout with Friends

If you have been looking for a workout partner or think, if you just had someone to workout with it would be so much easier, then Workout with Friends is for you! This class is peer lead and focuses on strength building. Join us every Tuesday at 11am, hybrid, for a fun virtual workout with fellow Cancer Support Community participants.


Learn More
Healthy lifestyle techniques
Helping you to use your skills, and be your best.
Get Creative

Learn More
Grounds for Hope
$3 from each bag of Grounds for Hope coffee benefits CSC. Learn More
Learn about our programs and events
Check out our calendar to see upcoiming programs. Keep in touch!
We would love to provide more information about our services and how you can be involved.
SIGN UP NOW