Cancer Support Helpline
The Cancer Support Helpline is staffed by counselors and resource specialists who have over 170 years of combined experience helping people affected by cancer.
Cancer Support Helpline
The Cancer Support Helpline's licensed counselors provide guidance, resources, and support to cancer patients or their loved ones with a variety of needs—from getting information about cancer, identifying a local support group, or just finding someone who is willing to listen. We speak your language! We provide supportive counseling in over 200 languages.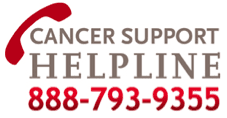 Additional Cancer Support Helpline services include:
Connecting callers to local or national resources, including support groups, transportation services, and other programs

Short-term cancer counseling and emotional assistance

Treatment decision planning

Financial navigation and counseling regarding the costs of cancer and its treatments

Specialized information in pediatric oncology, finances, clinical trials, and genetics/genomics

Clinical trials navigation

Access to an online distress screening program, CancerSupportSource®

General information about the Cancer Support Community

Supportive counseling is available in over 200 languages
The Cancer Support Community's TOLL-FREE Cancer Support Helpline is available for anyone affected by cancer. Call 1-888-793-9355 during the following times: Monday–Thursday: 11 a.m.–8 p.m. ET and Fridays: 11 a.m.–6 p.m. ET

Monday-Thursday
11 am – 8 pm ET

Fridays
11 am – 6 pm ET

Saturday & Sunday
Closed – Voicemails will be returned Monday morning.
…So that no one faces cancer alone
Explore the complete Cancer Support Community Central Ohio calendar here.

Learn More
Programs and Events

Learn More
My Cancer Manager℠ app
With MyLifeLine.org We Believe Community is Stronger Than Cancer
LEARN MORE Learn More
Sign Up for our free newsletter
Check Out What's Happening at Cancer Support Community
GET STARTED Keep in touch!
We would love to provide more information about our services and how you can be involved.
SIGN UP NOW