Cancer Support Community Central Ohio hosts two signature fundraising events: our 2016 Charity Golf Classic and our Night of Chocolate. Both provide a way for individuals to support our organization while having fun along the way.
However, if you cannot or choose not to attend one of these events, we encourage you to organize your own fundraising event and donate the proceeds to Cancer Support Community. These types of events are sometimes called third-party fundraisers, independent fundraising events or grassroots fundraisers. They are an effective and efficient way for a nonprofit organization to raise funds in today's economy.
Whether it's a bowl-a-thon, a cross-country hike or a wine-tasting event in your home, the key is to choose an event you can get excited about. This will look a little different for each person, but we're here to help bring your ideas to life and give you the tools to be successful.
Tools and Resources for Hosting a Third Party Fundraiser
Download the Cancer Support Community Central Ohio Fundraising Event Guidelines
Success Stories
Fashion 4 Hope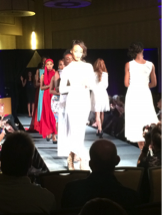 Local company Minka's Furs and Pearls organized a fashion show called Fashion 4 Hope. Over 150 guests made their way to Hollywood Casino on November 6, 2014 to watch the fashion show, take part in auctions and provide hope for those affected by cancer. During the night, guests were treated to a stunning runway show featuring designers ModeAlise, Thread, Minka's Furs and Pearls and the international designer Lubna Najjar of Lubna Designs, Inc.
Crunch Out Cancer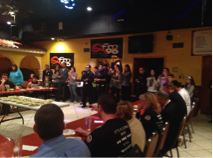 Crunch Out Cancer was a taco-eating contest to support Cancer Support Community Central Ohio. It was organized by CSC board member Jasmine Tucker and supported by QFM96 and El Vaquero.
P Buckley Moss Art & Wine Reception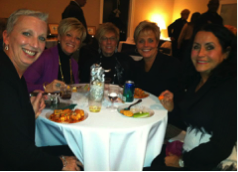 One of America's most prized artists, P Buckley Moss, visited Cancer Support Community Central Ohio on Friday, December 13, 2013. The fundraising event was hosted by CSC and organized by Gallery Art Center, located in Upper Arlington.
Roast of Skip Weiler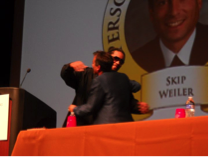 Friends, family members and colleagues came together in 2011 to honor and crack a few jokes about Skip Weiler. This comedy roast was a chance to pay tribute to a tireless advocate of Cancer Support Community Central Ohio and one of the area's most committed business leaders. It also raised $90,000 to support CSC's programs!
If you or your company is interested in organizing a fundraising event, please email Debbie Beyer or call 614.884.HOPE (4673).
...So that no one faces cancer alone.
Explore the complete Cancer Support Community Central Ohio calendar here.