Loving Kindness Mindfulness Series
It has been said that "the most intimate relationship we will ever have is the one we have with ourselves."
Join us for this 3-part series on loving-kindness and compassion, where we will explore the potential for deepening our relationship with ourselves.
Each week we will explore wisdom teachings on loving-kindness and compassion, woven in with mindful movement and meditation to make our time together healing and worthwhile.
Please have at hand 2 firm blankets, a pillow, and an (optional) cushion or bolster for support of the lower back.
Program facilitator: Kevin Kraska, LISW-S
Location: Cancer Support Community, 1200 Old Henderson Road, Columbus, 43220, or online via Zoom
Click the date(s) you would like to attend to register. Registration is required.
9:30 AM - 10:30 AM
9:30 AM - 10:30 AM
9:30 AM - 10:30 AM
We look forward to seeing you!
Jenny and James' Story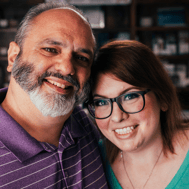 At Cancer Support Community, cancer survivors and their caregivers have a place to share their experiences, learn from others, and develop bonds that help sustain them through the journey.
"Cancer Support Community is just as important as chemotherapy, radiation, or any other treatment."