Cancer Support Community Central Ohio relies on local professionals sharing their time and talents with the survivors and families we serve. Whether you are a healthcare provider, fitness instructor, meditation consultant, artist or other interested professional, please consider working with us to help teach, lead and inspire the members of our community who have been affected by cancer.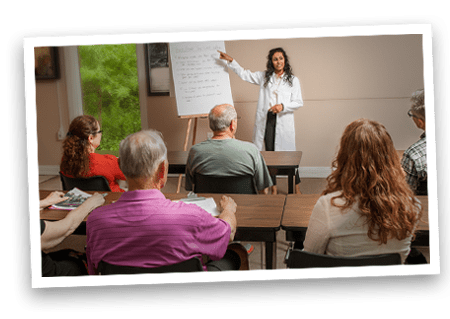 Cancer Support Community is pleased to partner with VITAS to provide Continuing Education Classes for oncology professionals at no cost! For presentation topics and dates click here.
Healthcare Professionals: Help us address patients' critical psychosocial health needs.

Cancer Support Community is one of only three cancer support/patient advocacy groups invited to join the American College of Surgeons Commission on Cancer. The other two groups are LIVESTRONG and the National Coalition for Cancer Survivorship (NCCS). Cancer Support Community is working with Commission on Cancer to develop new psychosocial standards for screening and care across the 1,500 oncology practices and institutions it accredits annually, which comprise 70% of all new cancer diagnoses in the United States.
Read about the latest research and news
Host, sponsor or present an educational workshop
Serve on our Professional Advisory Board
Central Ohio Community Professionals: Share your unique skills with people affected by cancer
We need you to help educate, empower and provide hope to those in Central Ohio whose lives have been touched by cancer. Please explore our event calendar to see the types of programs, services and events we offer and email Angie Santangelo, Clinical Program Director, or call 614.884.HOPE (4673) to discuss ways you can get involved.
…So that no one faces cancer alone
Explore the complete Cancer Support Community Central Ohio calendar here.

Learn More
Programs and Events
Browse organizations offering cancer-related information and help.
RESOURCES

Learn More
My Cancer Manager℠ app
Search upcoming programs and signature fundraising events.
CALENDAR Learn More
Sign Up for our free newsletter
Receive our newsletter for events, articles, recipes and more at no cost!
SIGN UP Keep in touch!
We would love to provide more information about our services and how you can be involved.
SIGN UP NOW