We Celebrate Aireen
Cancer Support Community | 09.03.2020
It was an average day at work as a medical doctor in 2017 when the nurses noticed something was off with Pedro. When he started to lose his speech, we went to the emergency room and an MRI found lesions in his lungs with the cancer rapidly spreading to his brain.
Pedro's prostate cancer diagnosis in 2015 had been difficult, but this was even more devastating for all of us – our daughter and son and their families. It all happened so quickly! As a doctor, Pedro knew his prognosis presented a challenging journey ahead. He went through chemotherapy and radiation, but the cancer was relentless.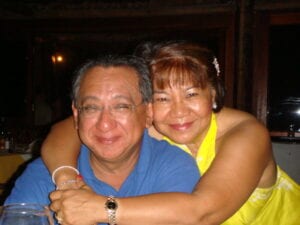 Between the endless hospital visits and appointments, being his caregiver was overwhelming. I took care of him both in the hospital and at home. Caring for him felt like a roller coaster. Some days were good, most of them were not. Some nights I would only get an hour or half an hour of sleep, if I was lucky. I was constantly fatigued. I wanted to be there for him, but the challenge of caring for Pedro left me physically and mentally exhausted.
At Cancer Support Community, I found hope and respite. Five years ago, after Pedro's original diagnosis, a friend saw the stress I was dealing with and invited me to a yoga class at Cancer Support Community. Having this organization as a resource was so helpful, especially when we received Pedro's second diagnosis. Being around others who were dealing with the same situation made it a little easier. I was able to share my hopes, fears and challenges with others who understood. Coming to a cooking or yoga class, even for just for an hour, helped relieve my stress. The programs and the people I met helped me realize I needed to take care of myself to be able to provide the best care for Pedro.
I'm grateful that Cancer Support Community was there when I needed the support. The nice thing is that they're still here for me as I adjust to life without my husband. I've learned ways to take care of myself and reduce my stress at my favorite programs, Gentle Yoga, Belly Dancing, and Cooking for Wellness. I've developed friendships with people who understand how cancer changes families and who understand the stress of taking care of a sick loved one. We share stories, we share hugs, and we lift each other up.
I'd like to thank Cancer Support Community for helping me on this journey. I didn't sign up to be a caregiver any more than Pedro signed up to have cancer, but I am so thankful that they're here for me.