Remembering My Brother
Cancer Support Community | 12.03.2019
By Matt Simyak, Volunteer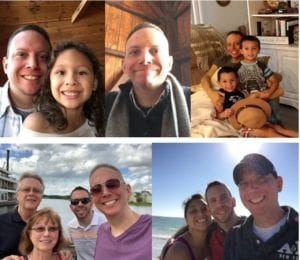 Over the last 3 and a half years my brother, Marc, courageously fought Stage 4 Colon Cancer. His fight ended on August 11th of this year. My mother and father have struggled to cope with the loss of their son and I have struggled with the loss of my only sibling and best friend. He was 41 years old when he passed.
What makes it difficult was the fact that my brother was a happy soul and was loved by everyone who knew him. He lit up the room with his infectious smile and people would reach out to him because he had a way of uplifting anyone who was feeling down. My parents and I were all looking for a miracle and I guess the miracle was that we had 3 and a half years with my brother after he was diagnosed with cancer.
It wasn't until the final month that I realized how strong my brother really was. In the 3 and half years, he had over 10 surgeries, well over 150 doctor visits, chemo off and on, radiation and his blood drawn more times than I can count. Yet he never wanted people to pity him or know how much pain he was in.
Throughout the entire period he dealt with cancer, my brother inspired so many by posting updates on his status and he always remained positive despite the news he received. He tried so hard to be strong so my kids didn't think their Uncle Marc was not any fun. In fact, 3 weeks before he passed, he willed himself to go to Disney's Typhoon Lagoon with me and my kids. He even went on a few water slides because he wanted my kids to remember their Uncle Marc as a fun and loving uncle.
Marc will always be remembered for his smile, personality and the carefree way he took on life. Though my parents and I struggle with it every day, we know my brother is in a better place, free of pain. The last week of his life he told us that he will always be with us in some way, shape or form.
I started volunteering at Cancer Support Community Central Ohio because I know what it feels like as a family member of someone consumed by cancer. I want to continue to spread the word to people that there is a place where you can get support and to meet other people who might be dealing with the same cancer or loss of someone. I love my brother and always will and my commitment to Cancer Support Community Central Ohio is strong because I want to help people who are dealing with this awful illness.