Being a Community
Cancer Support Community | 12.18.2019
Written by: Angie Santangelo, Program Director at Cancer Support Community Central Ohio
Community (n): 1. a feeling of fellowship with others, as a result of sharing common attitudes, interests, and goals. 2. joint ownership or participation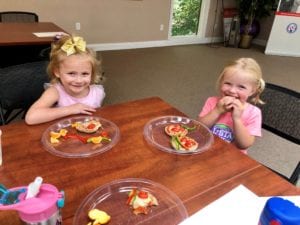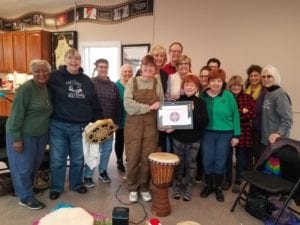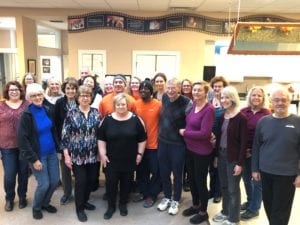 As I hang up the phone, I am drawn to reflect on this holiday season. This call was good news, treatment is working, and the joy needed to be shared. Earlier today, the news of a new diagnosis hit and shook another family. Through the ups and downs I am so glad we share them as a community. Every day I see acts of community and kindness and my heart swells. Being a part of this community has been constant in my thoughts lately and I truly count being a part of the Cancer Support Community as a blessing in my life.
There are several versions of the definition of community. The above two are my favorite. I witness "joint ownership or participation" daily. Every time someone puts up or takes down a chair or moves a table or washes a dish. Coming early or staying late to spend a half hour or hour volunteering. Greeting the new person who walks in the door and making them feel welcome. These acts can be small but are so powerful, they show joint ownership, being a responsible party in the community. That special feeling that you feel when you walk through the doors is the energy that is created by community. We aren't just offering programs that you attend, and then walk out the door. We are a community where you come together, learn together, grow together, grieve together and walk away feeling less alone and knowing you have place where you belong.
"A feeling of fellowship with others, as a result of sharing common attitudes, interests and goals." We have come together because we each have been impacted by cancer in some way. Hearing those words, "you have cancer," means your live changes forever: Whether the cancer has invaded your body or the body of someone you love. The fellowship in this community is so beautiful to me. Watching people care and support one another. Getting weekly updates on treatment, validating a new an beautiful bald head, placing a name in the box during Qigong, making an ornament and giving it to the person next to you, moving your yoga mat over to make room for someone, sharing the joys of clean scans, sharing the sorrows of loved ones lost – this is fellowship – this is community.
As I wish our community happy holidays this season, I am acutely aware, it is not always happy during the holidays. In the recent weeks I have celebrated with those who are now cancer free, who are seeing family coming home for the holidays, and who see treatment working. I have also been heartbroken by the loss of a child, a family pet, and our beloved chef. I've been angry with those who have received there second cancer diagnosis, a re-occurrence and failure of treatment. The joys and sorrows weave their way through our community. Together we laugh and together we cry. Each person's moment being important and acknowledged.
The hands that keeps us productive, organized, and help get the word about who we are out belong to our volunteers. Those who give a half an hour or a whole day or make a weekly commitment help us reach more people and serve more people. The work we do is increased by the hands of our volunteers.
The glue and heart that holds our community together is our staff and facilitators, all who are here because they have a passion to serve. The day to day would not happen without their tireless effort. The passion shows through is every dollar raised, every flyer made, every email sent, every activity organized, every volunteer recruited, every class provided, every repair made, every roll of toilet paper changed!
The vision and momentum to keep moving forward comes from our board of directors. I stand in awe of these men and women who are community leaders. They are not just here filling a seat, they are invested in making a difference and do so with their dollars, time, and talents. We are stronger, growing and mission focused because of their dedication.
Community – To quote my daddy, is "awesome." Thank you for being a part of this community. As we walk through this holiday season together, join me in being part of the community. Give the gift of time and attention to your neighbor. Check in to see if this is a joyous time or a challenging time, be with them in the here and now. I believe the power of the Swedish proverb: Shared joy is a double joy; shared sorrow is half sorrow.