Leaving a Legacy
Cancer Support Community | 07.11.2019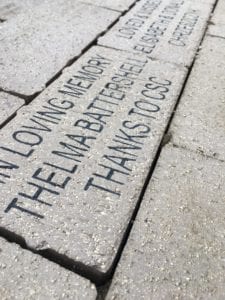 This summer, you may notice some changes around Cancer Support Community. We are busy completing several major renovations to our facility, including renewing our entryway garden. With the addition of commemorative bricks, our newly transformed Garden of Hope offers the people of our community, like you, the opportunity to create a legacy.
A brick honors a legacy. Whether it's a spouse, sibling, parent, or friend you've lost to cancer, or someone who is currently living with cancer, think about the impact that person has had on your life and the joy you shared. Through a brick, their legacy will be honored and live on in our garden and in the community for many years to come.
A brick builds a legacy. With a brick, you become part of something bigger than yourself. You join a community of people who, through many smalls acts of kindness, make our world better. Your action begins a legacy of philanthropy, inspiring others and creating ripples of compassion and generosity.
A brick ensures a legacy. As a part of our Garden of Hope, each brick will literally, and figuratively, help build our community. You will create a beautiful outdoor space for our participants to enjoy and your gift enables Cancer Support Community to provide programs and services of support – at no cost – to ensure that no one faces cancer alone.
How will you shape your legacy? Visit our commemorative brick donation page to get started.